Vertical Batch Freezers
For 75 years the EFFE Vertical Batch Freezer by Cattabriga has set the world's standard for artisan gelato and ice cream machines. This unique batch freezer allows you to add ingredients as the ice cream is being produced and provides a visible work area to consumers, something impossible to do with a horizontal batch freezer.
Explore
Combination Batch Freezers
The Coldelite Combination Batch Freezers, provide all in one heating and freezing allowing for fast continuous commercial production. These versatile batch freezers are perfect for limited space and commercial production of the finest frozen desserts, gelato, ice cream, sherbet, granita, and sorbets all with one machine
Explore
Horizontal Batch Freezers
Horizontal batch freezers are extremely mechanically reliable and produce an exceptionally high quality of frozen desserts, including ice cream, gelato, custard, sorbet, granita, Italian ice or sherbets. The Cattabriga F45, F90, and F120 Batch Freezers use cutting edge technology to guarantee top quality ice cream, perfect for commercial production.
Explore
Multi-Function Batch Freezers
The Multi-Function Batch Freezers are all-in-one machines with heating and freezing capabilities for the production of frozen desserts, pastry creams, custards & curds, pate choux, sauces, cake layers, mousses, jellies and poached fruits, confections and chocolate recipes.
Explore
Counter Top Batch Freezers
Counter-top batch freezers are designed to produce the best ice cream, gelato, sorbet, custard, & frozen desserts, while fitting in any modern professional kitchen. Perfect for any chef or business looking to add gelato or home-made frozen desserts to their menu.
Explore
Soft-Serve Batch Freezers
The patented peristaltic pump transfers gelato or ice cream mix and air from the tank through the compression tube, achieves high increase in volume, grants high productivity, and easy maintenance.
Explore
Ice Cream & Gelato
Equipment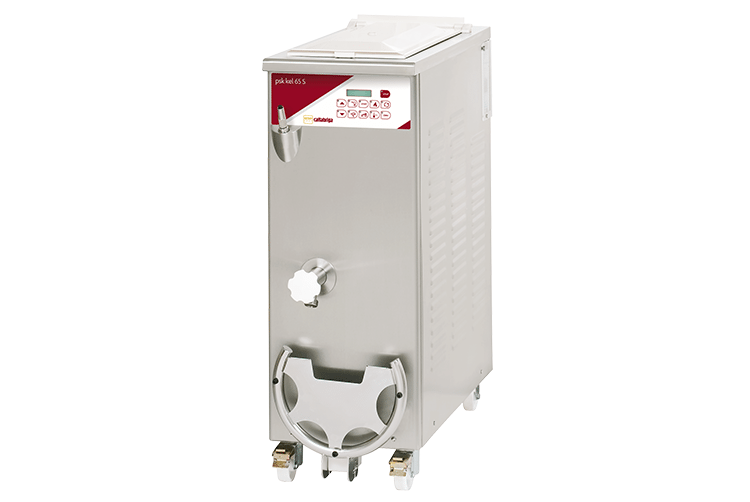 Mix Treatment
The PSK-KEL bain-marie mixer excels in performance and temperature control, making it ideal for commercial batch pasteurizing. This electronic pasteurizing "bain marie" mixer is designed for flexibility to produce the most delicious artisan gelato and ice cream.
Explore
Displays & Dipping Cabinets
From traditional pozetti to modern, free-standing, and transparent Gelato and Ice Cream display cases. These beautifully crafted, Italian artisan dipping cabinets feature automatic defrost, three phase or single phase electrical (depending on your needs), and are available in a large range of size showcases to fit any footprint.
Explore
Blast Freezers
The all-in-one blast freezer/ blast chillers by Techfrost guarantees the quality of your food products, preserving moisture and extended shelf life. Techfrost Blast Freezer / Chillers are indispensable in all sectors of gastronomy, pastry, gelato-making, and bread-making.
Explore