Gelato & Ice Cream
From traditional pozetti to modern, free-standing, and transparent Gelato and Ice Cream display cases. These beautifully crafted, Italian artisan showcases feature automatic defrost, and three phase or single phase electrical, depending on your needs. Gelato & ice cream cases available in a large range of sizes to fit any footprint.
Pastry & Deli
Striking and functional display cases for a Deli, Grocery Store, or Patisserie. Completely customizable to suit any design, or style. Fully refrigerated options are available, allowing for uniform refrigeration from top to bottom. Humidity control options and gravity coil refrigeration available for meats and cheeses.
Chocolate
With key features like automatic humidity control, we have the ideal solution to showcase and store your chocolate creations. Over 30 unique, glass top styles and looks, to compliment any theme or style. Adjustable temperature control allows you to hold your product in ideal conditions.
Neutral & Bread
When no refrigeration is required, these displays can perfectly accommodate ambient temperature. Showcase your baked goods, and breads, while maintaining perfect freshness. Customization options are endless, with styles and designs to suit any product, and any space.
Dry-Hot
Elevate your heated products, or hot food items with beautifully designed, and technologically advanced showcase options. Available in full service, and self-serve configurations. Perfect for pizzerias, sandwich shops, delis, and markets.
Bain Marie
Elegant solutions for self-service and full service buffet and cafeteria style settings. Customizable to meet any need, and any footprint. Perfect for combination hot-cold salad bar, delis, and grocery stores.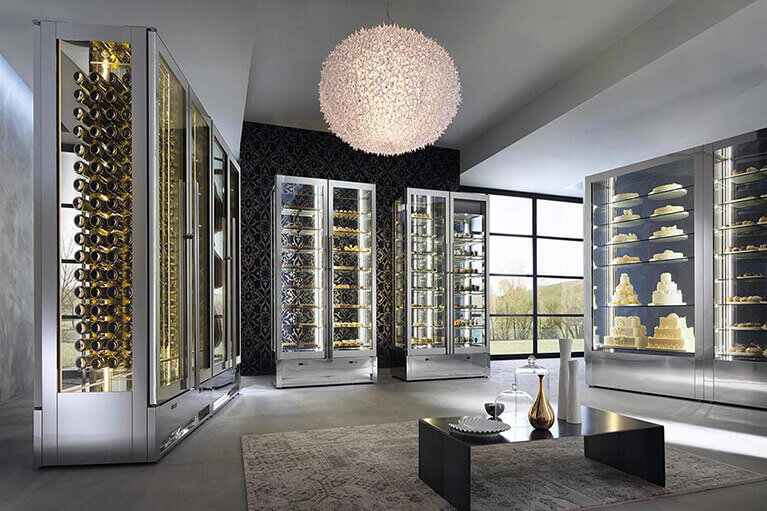 Upright
Striking merchandising solutions for self-serve and full service environments. Adjustable shelving options allow for maximum product display in a small footprint. Accessory options such as pass through doors, locking night screens, and advanced lighting features make these displays ideal for back bar or front of house.
Grab-N-Go
Stand out with stunning and unique self-serve designs, suited for both fully refrigerated and ambient display. Our Grab-N-Go showcases can be easily integrated into any front bar. Spotlight your Grab-N-Go items with these modern, and customizable solutions.
Wine
Advanced Gourmet offers multiple wine display options, including uprights, for either white or red wines. Special features like pass through loading, dual temperature zone displays, LED lighting, and multiple shelving/rack options are available.