Mya
MYA is the perfect synthesis of display, performance, ergonomics, and energy savings. Even in the least ideal ambient conditions, MYA can ensure perfect product preservation.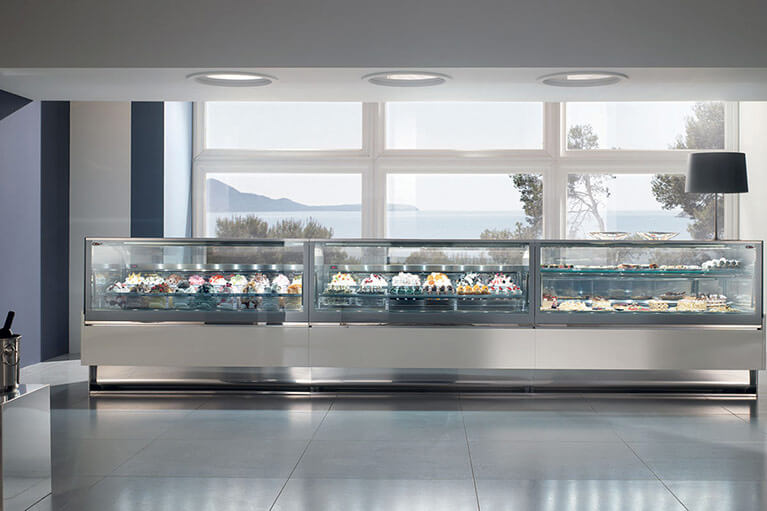 Ice Queen
Perfect for showcasing gelato, ice cream, pastry, and chocolates the Ciam Ice Queen seamlessy blends technology and design. Transparent polycarbonate pans and dramatic lighting make this case an eye catching piece. Daring angles and a curved glass front make your product the centerpiece.
Vertigo
Vertigo incorporates clean, vertical lines that create height without distracting from the your frozen desserts, pastries and chocolates. The neo-classical style of the Vertigo display is both elegant and timeless.
Space
Space display cases represent the new generation of bread and pastry showcases. The modern curved design allows for prime product visibility of your bread, pastries and neutral temp food items.
Amika
The Ciam Amika cases and cabinets are elegantly shaped, with intricate angles, and excellent product display visibility for gelato, ice cream, pastry, and chocolate . Front opening, tempered glass provides access to your display interior, for quick and simple cleaning.
6040
The 6040 series by Ciam is an extremely diversified, highly customizable line of gelato, ice cream, pastry and chocolate display cases. The combination of 12 different glass tops and a plethora of color and paneling options, ensures that each case is unique and expressive.
Flat
The Flat series is part of our Slim Line of display cases. It is available in two different depths, 625 or 800, and comes in 11 different glass top styles. Whether you are looking for a curved top or a single level, vertical, this display has an option for you, all in a small footprint.
900
The 900 series is part of our Slim Line of display cases, offering narrower gelato pan configurations. This series is available in five different glass top styles ranging from single shelf to multiple shelf options.
Tortuga
Fully refrigerated/warmed display showcase. Available in pastry version or heated. Display structure, composed of double glazed glass, with self closing door on the operator side. 2-glass shelves with polished, stainless steel, adjustable brackets.