Ciam
The Official US
CIAM Design Center
CIAM is a prestigious company in supplying equipment and design for bar, pastry, ice-cream and shops in general. Founded in 1977 by Giuseppe Malizia, Ciam soon became a leader in shop fitting and professional refrigeration. For 40 years, Ciam has distinguished itself for its reliability, punctuality and the great quality of their cases and displays. The 23.000sm Ciam factory and headquarters, located in Petrignano di Assisi, represents a mix of efficiency and technology that together, with the ability and experience of the technical staff, concur with Ciam's mission to elaborate and to realize complex plans of high technological content in according to the requirements of their customers.
Download Our Full Ciam Catalog
In 2010, Ciam Opened a new 250,000 square foot factory, heavily invested in modern equipment, unseen in any other factory. Besides the technological features, including laser cutting, metal and steel processing, and bending machinery, Ciam wanted their new plant to be eco-friendly as well, such as environmentally friendly painting booths. This focus on modernization is why Ciam Display Cases and Cabinets are some of the most technologically advanced and beautifully designed showcases to enter the U.S market.
As the sole USA importer of the Ciam brand of professional display cabinets, Advanced Gourmet Equipment and Design can meet any display need with the most technologically advanced, and beautifully designed showcases on the market. Using cutting-edge technology, Ciam displays and showcases can be customized to fit any space, style, or refrigeration/heating temperature need.
Ciam Display Case & Cabinet:
Models
Master Collection
Advanced Gourmet's premier line of showcases. This vast line features display cases ranging from low temperature gelato to bain marie displays. We can custom design any size or style case to meet your needs.
Explore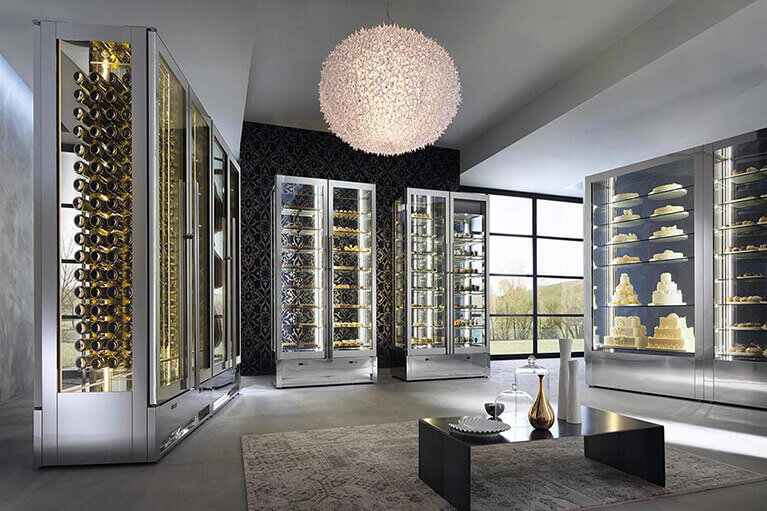 Verticali Collection
Advanced Gourmet's featured line of upright display cases and cabinets. Display a maximum amount of product, in a small footprint, using this striking display and showcase line.
Explore
Modular Cabinetry
Advanced Gourmet's line of base cabinets, wall cabinets, & front / back bar cabinetry. Low temperature, dry, refrigerated, and more; the accessory options are limitless in this expansive line of modular cabinets.
Explore