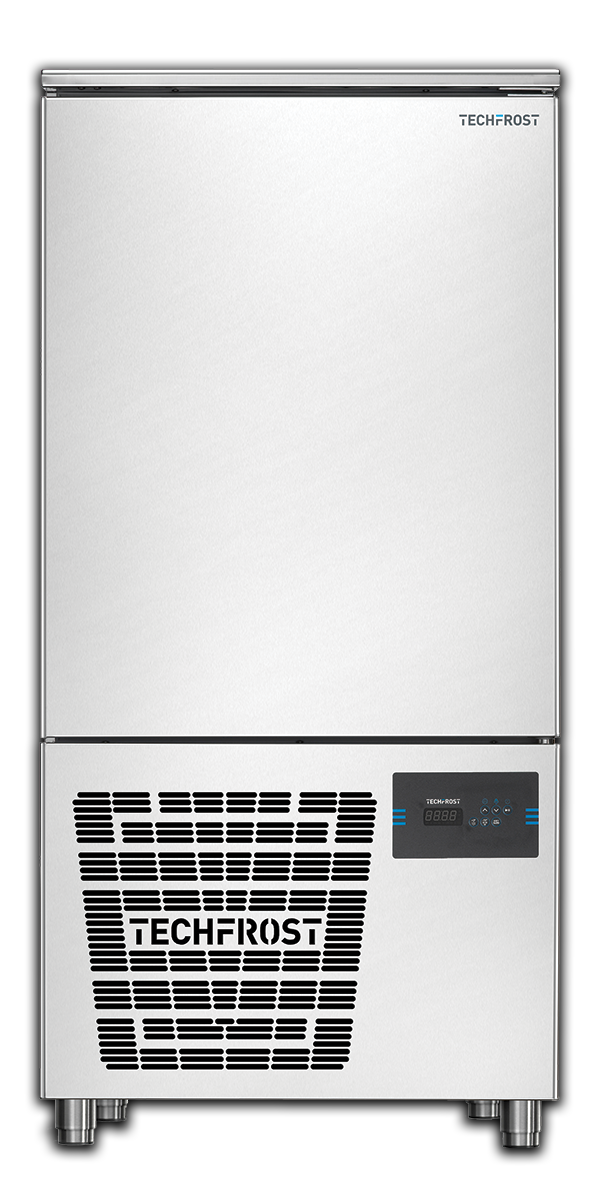 The most adept freezer for your professional workshop!
Techfrost E15: Blast Freezer Advantages
The Techfrost E15 Blast Freezer is Advanced Gourmet's largest floor model blast chilling / shock freezing unit. This all-in-one blast freezer / blast chiller by Techfrost guarantees the quality of your food products, extending shelf life and preserving moisture, color, flavor, fragrance, and natural freshness. The E15 Blast Freezer provides the most high tech shock freezing / blast chilling for your professional kitchen, providing the largest capacity, in the least amount of space. The E15 Blast Chiller ensures high performance shock freezing, achieving an internal temperature of -40 in just 18 minutes.
Techfrost E15: Blast Freezer Advantages
Multiple Applications - Techfrost Shock Freezer / Blast Chillers are indispensable in all sectors of gastronomy, pastry, gelato-making and bread-making, where work time and food safety standards have an essential role.
Versatile - Use the E15 as both a blast chiller and as a shock / blast freezer.
Spacious - With over 11 cubic feet of internal space, fit up to 15 trays / sheets in the E15 Blast Freezer.
Durable - The E15 Blast Freezer is constructed of durable, easy-to-clean stainless-steel
Professional - UL / NSF Certified
Advanced - An indirect ventilation system prevents food dehydration and ensures an even temperature distribution through out the chilling / freezing process.
The Techfrost E15 Blast Chiller opened new horizons and new markets to the artisan and industrial production of bread and of the brioches. Store uncooked food, or partially / integrally cooked food, while keeping the integrity and fragrance. The E15 Blast Freezer allows food to pass directly from the oven to the blast chiller for fast freezing, remaining absolutely unchanged, maintaining the natural fragrance and freshness of the fresh product.
TechFrost E15: Blast Freezer Unique Features
Four (4) cycles in standard mode: two (2) for chilling to + 37 F and two (2) for freezing to negative temperatures
30-40% more energy efficient, with faster chilling times – all while preserving the freshness and fragrance of the food
Indirect air distribution and special airflow pattern to ensure perfect temperature uniformity
Smudge-resistant controller touch pad
Moisture preservation system
Easy access to washable evaporators, waterproof fans, removable magnetic condenser filter