Advanced Display Solutions by
CIAM
As the sole USA importer of the Ciam brand of professional display cabinets, Advanced Gourmet Equipment and Design can meet any display need with the most technologically advanced, and beautifully designed showcases on the market. Produced in Perugia, Italy using cutting-edge technology, our displays can be customized to fit any space, style, or refrigeration need.

Ciam's extensive line of displays offers gelato and ice cream dipping cabinets, pastry and confectionary cases, and humidity controlled chocolate cases. We offer hot, and cold deli merchandising, high end wine displays, open-air merchandisers, and grab-n-go cases.

Advanced Gourmet's solutions extend beyond showcases, and displays.  We offer modular counter systems, for both front and back of house. These stainless-steel options are ergonomically designed by artisan cabinet makers, and mill workers, to create a seamless look and experience.  The manufacturing plant is ISO9001 certified and is a "Recognized Satellite Laboratory" facility by Intertek allowing UL and NSF markings for all equipment relating to the USA market. 
Download Our Full Ciam Catalog
Display Case & Cabinet
Models
Master Collection
Advanced Gourmet's premier line of showcases. This vast line features display cases ranging from low temperature gelato to bain marie displays. Regardless of the application, we can custom design any size or style case to meet your needs.
Explore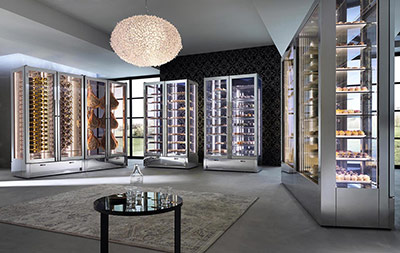 Verticali Collection
Advanced Gourmet's featured line of upright display cases and cabinets. Display a maximum amount of product, in a small footprint, using this striking display and showcase line.
Explore
Compact Collection
Advanced Gourmet's line of front and back bar cabinetry. Low temperature, dry, refrigerated, and so much more; the accessory options are limitless in this expansive line of beautiful base cabinets.
Explore